A BROOK FLOWS THROUGH IT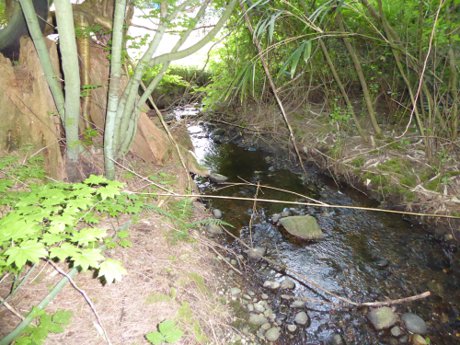 BUILD YOUR DREAM HOME - CUSTOM CONSTRUCTION
ON THIS 1.75 ACRE SECLUDED LOT
Quiet. Rural but close in. 75,840 sq. ft.
Ideal for custom construction. You end up with the home you want.
When you build custom, you generally end up with a home worth more than what you spent to build it. There are $1.2 million homes in this neighborhood. So values up to $1.2 million are supported.
Only one large home can be built on this large lot due to brook setback rules. This lot cannot be subdivided. The new home must be built on the large footprint of the existing home and outbuildings.
The existing home must be torn down. It was build in 1952 and has outlived its usefulness.
There is a large meadow with room for baseball, soccer. There are woodlands to explore.
CENTRAL MEADOW
The lot is situated on the east side of Cascadian Way. It is 499 feet from east to west and 132 feet from north to south.
There are trees on all sides, so your new home will be secluded.
There are mature McCampbell and Niagara grapes growing on the property and apple, magnolia, and rhododendron.
There is a six inch sewer line in the driveway, ready to be hooked up.
There is easy access access from the 164th and 128th exits off I-5.
The asking price is $570,000. The seller will consider all reasonable offers.
Agents: Do not show the home. It needs to be demolished. The foundation is cracked. The buyer must accept the house as-is and demolish it. There are old cars and an old trailer on the property, which the seller will soon remove.
There is no key box. Call James Robert Deal at 425-774-6611 before showing. Generally brokers may take buyers on a tour without the presence of the listing agent as long as a ew hours notice is given.
Click here for a diagram of the property, including the placement of the existing structures, the brook, and the required setback from the brook.
The brook runs from west two east, towards North Creek. During summer droughts the brook is dry, but that is not a bad thing because you can walk the brook to the east all the way to the back of the property. Once it starts raining the brook has a strong flow.
Title and escrow should go through Ticor. The Ticor order number is 70071256.
There are two listing numbers for this property, no. 1125811 for the residence and 1129407 for the land.
Directions: From I-5, go east on 164th Street SW. Turn left and go north on Cascadian Way. The property is on the east side.
Park on the street and walk down the driveway. Do not drive down the lane unless you are good at backing up because it is a little tricky to turn around.
There are old cars and an old trailer on the lot, which the seller will soon remove.
DIAGRAM SHOWING PLACEMENT OF EXISTING STRUCTURES AND BROOK